I always say that there are three kinds of people in the world; those who know math and those who don't. Well, there is another way to divide the carbon-based bipeds on this planet; those who know how to take pictures, and those who don't. I consider myself definitely a member of the last group. But, I really would like to be in that first group, together with Ansel Adams, Henri Cartier-Bresson and Robert Capa. There, now I have used the names of some of the greatest photographers in the world. A sneaky way to introduce good searchwords into the text, don't you think?
Well, I am not going to compare myself with those geniuses, I just would like to say that even if my pictures are not of any particular quality, I really like to take pictures! It is a wonderful hobby!
As always with webpages like this; everything is under construction. Higher resolution versions of these pictures will be made available when I get some more storage space on the web. Maybe...
Vinje in Northern Telemark in Norway. A beautiful place that even a mediocre photographer like me could get a decent picture of...

A modern building in an old industrial area, Nydalsbyen, Oslo, Norway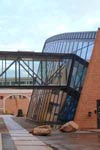 This is my parents cat. Let me tell you; it is so difficoult to take good pictures of cats! This is as close as I got, I am afraid.


Here are some flowers...
What kind, you ask? Well, violet ones, of course...